Homeland Security grant equips Billings 2 deployable surveillance
April 11, 2022|National News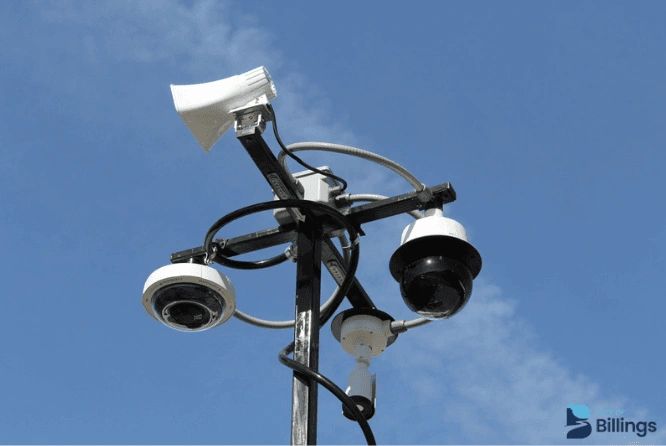 The sun was brightly shining one Friday morning in April, when KC Williams, the disaster and emergency services director for the City of Billings and Yellowstone County, stripped off the packaging from two new deployable surveillance camera units.
The sunshine is essential because both units are solar powered.
"They should last three to four days with no sunlight. If they have sunlight, of course they'll run indefinitely," explained Dave Worrell, technician for ECamSecure, who traveled from Las Vegas, NV to Billings to provide training on the two new units.
On the days that lack sunshine, the units can also operate on a generator or electricity, which is a good possibility on overcast days, and during our winters with less daylight hours.
But the technological features of the units go far beyond solar power.
Situated on top of a retractable mast, a 360-degree camera, an infrared camera, and a third camera that can tilt, zoom, and pan, the units will serve as extra sets of eyes for first responders.
"These are able to go anywhere we need them to go and provide us those eyes for security reasons," said Williams.
With no set plans on when the units will make their debut, Williams said they can be used at a variety of occasions, like local events, protests, hazmat scenes, emergency scenarios, high-risk intersections, and more.
"Maybe it's not safe to be right there, but we can put eyes on it and watch it develop. So, any number of things where you need to have visibility, more than just one person, you need to have constant and long-term visibility of it, that's what these are for," Williams said.
Also equipped with a PA system, operators can trigger custom verbal alerts, whether it be a warning, or an emergency message.
"It will help give us a better public safety response when we have large crowds out here. It just makes everything safer," said Williams.
The units were purchased through a United States Department of Homeland Security grant for $68,000.
All emergency agencies in Yellowstone County will be able to use the units, including the Billings police and fire departments, the Yellowstone County Sheriff's Office, EMS, DES, rural fire departments and Laurel.
Williams also said his office shares resources with nearby counties like Carbon County.
The agency using the units will be able to watch live and control the cameras remotely. Video footage is also stored for review.
With a history in law enforcement and firefighting, Williams is certain the units will be an invaluable tool.