[ad_1]

Eli Shkarofsky won his very first running competition. It was a 5k race organized by the Special Children's Center in Lakewood NJ. The following year he placed first again.
After his second win, Eli, a 26-year-old bachelor who volunteers for camps that provide emotional and financial support to families and children with rare conditions and diseases, was asked by his long-time camper, Refael Boyer, 14, if he'd push him in a wheelchair during the next race.
"Everyone was telling me, 'Don't lose your chance for winning first place. It's not worth it. You have real potential here,'" Eli said in an Aish.com interview. "But I was still inclined to do it."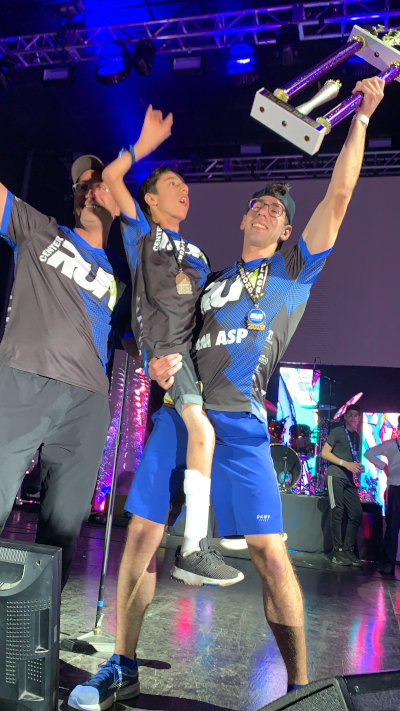 A running coach who was impressed with Eli and wanted to train him, discouraged him from running with Refael. "With your potential, you could be the best out there. But I won't train you if you push the chair."
Eli declined the offer, ignored the naysayers and agreed to race with Refael.
Together, they came in first place.
Long before the race, Eli reached out to many organizations searching for a running chair to borrow. Ultimately, Ainsley Angels, lent a chair to Eli for him to train with.
"The first time I put Refael in the chair he was so happy. He was literally bouncing with joy and could barely contain himself. We trained together a few times a week for The Center Run. On the day of the race Refael said, "I want to come in first place."
Eli laughed and said, "I can do my best, but I can't promise."
During the race Refael kept yelling, "Quicker, quicker!"
Refael's words infused Eli with the strength to keep going and ultimately win the race, proving everyone wrong.
Eli isn't the only person proving others wrong. Refael was born with extreme club feet and has a condition where his muscles are either nonexistent or extremely weak. He's had multiple surgeries and the doctors predicted Refael would never walk.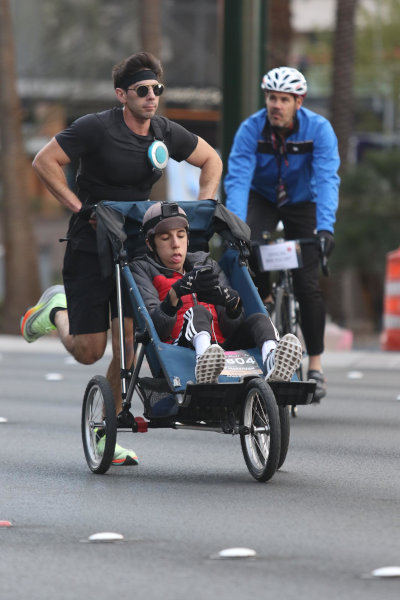 Despite all odds, Refael is able to walk with braces. With a lot of hard work and therapy Refael overcame many hurdles and is mobile. "He may be somewhat delicate," Eli said, "but he's out and about like other kids."
"Competing in a marathon together requires teamwork. Even though I'm the one running, Refael has to sit for very long stretches and sometimes in extreme weather conditions."
Pushing the chair definitely slows Eli down, but seeing the happiness on Refael's face motivates him to continue. "Sometimes I'm not in the mood to train, but seeing how happy it makes Refael makes me happy and gives me energy to push through."
Covid Brought Them Together
When Covid hit, Refael's parents asked Eli if he'd be willing to move in during Passover in order to help out. He agreed and ended up extending his stay for three months to help them.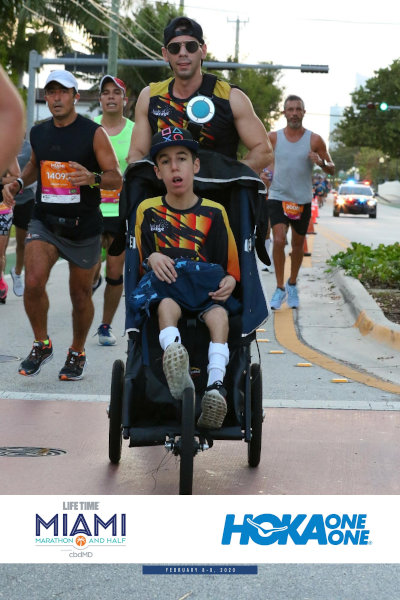 "Refael literally had nothing to do all day so I decided that it would be a perfect opportunity to train together. I reached out to a couple friends and raised the money to purchase the chair from Ainsley's Angels at a discounted price. That's when we started training. Every Sunday we did a virtual half marathon because of Covid. The neighbors made finish lines out of balloons and we even had a police escort for one of the marathons.
I helped Refael get through Covid, but Refael got me through it too."
They tackled the YETI 24-hour challenge. "You run five miles every four hours for 24 hours straight. This race messes with your mind because by the time you recover you have to start again." They started Saturday night and finished in 22 hours.
Refael's parents asked him if wanted to skip the nocturnal portion of the race, but Refael adamantly refused.
Eli said, "Ever since we started running, Refael has begun to work out seriously. He does push-ups, sit ups, planks, and uses small weights to incorporate as much fitness as he can into his day. On a Kids of Courage ski trip, the group had to leave at 6 AM. Refael woke up at 5AM to complete his workout beforehand."
Refael and Eli do spartan races with an organization called Climb for Life. Refael trains daily with the organization's Grit Freedom Chair that has two bars on the side, enabling Refael to move the chair himself. If Refael is consistent with his strength training Eli believes he'll be able to complete his own marathon one day. The duo are currently raising money to try to secure another chair for the organization.
What's Next on the Horizon
Eli and Refael hope to compete in a triathlon which consists of running, swimming, and biking.
Eli has a goal to raise money to purchase a chair that can be attached to a bike so Refael can be pulled. The chair cost $5,000 – a hefty sum, but Eli is determined to enable Refael to participate in the triathlon one way or another.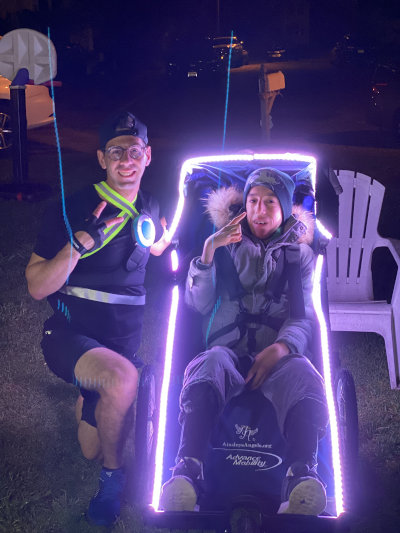 This past Sunday there was a bikeathon for The Center that Refael wanted to join. Since Eli didn't have the chair, they ran it instead, successfully completing the 25-mile bikeathon that stretched from Deal to Lakewood.
Eli is inspired by the overwhelming support they receive from the running community. Everyone honks, cheers and high fives them. They were recently featured in the sports magazine Runners World
While Eli and Refael give each other strength and purpose, they're inspiring us all.
Bike for Chai is taking place August 18th and Eli is trying to raise funds for the required chair. Click here to make a donation.
The post What Makes Eli Run? appeared first on aish.com.
[ad_2]
Aish.com is an online Jewish Newspaper. Aish is a news partners of Wyoming News.